Wine list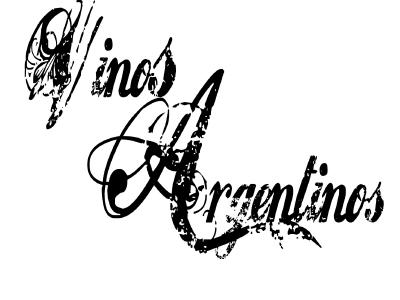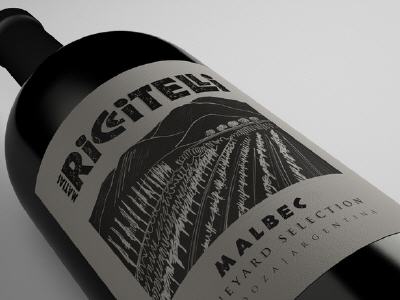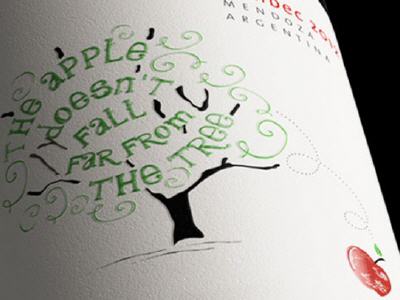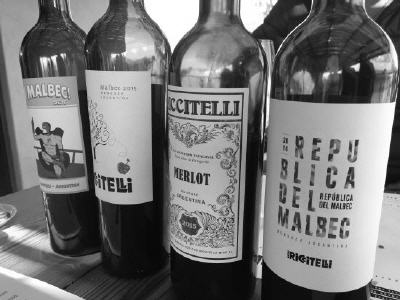 Tapiz Black Tears Malbec Vineyard Selection 2013/2014 99.-
In the nose excellent aromatic complexity with notes of ripe fruit and afine touch of
tobacco and minerals. Rich in concentration on the palate, complex fruit notes of dark
berries and cassis. The finish is long, with enormous Finesse, elegance and freshness.

matias Riccitelli Republica 100% Malbec 2015 97.-
In honor of the wine-growing pioneers in the wine region of Mendoza, to whom wines like
this too owe. Aromas of plums, dark berries, herbs and chocolate, on the palate is silky,
round and balanced with juicy fruit, fine spice and harmonic finish. This is a fantastic
argentinien red wine. The pure order!

Marchiori Barraud Cuartel 2 Malbec 2015 84.-
The 100% Malbec Argentine red wine comes hand-picked from the family wine vineyard
in Lujan de Cuyo of over 50 years old vines. Strong colors, intense aromas of blackberries
and cassis. Deeply structured on the palate of raspberry, yo hazelnut and dark chocolate.
Rich, dry red wine.

Familia Cassone Opra Prima Coleccion 2014/2015 76.-
The top wine of the Familia Casone is a strictly limited bottling of a Malbec. For this
Top Malbec uses only the very best barriques of a vintage, i.those that have the best aging
potential. Character features intense violet color, aroma of red fruit on the palate, it is fruity,
plump, full-bodied and full-bodied. The Opra impresses with its large volume and length on
the palate and a very harmonious balance between fruit and wood.

familia cassone linia verde 2014/2015 74.-
Strong red-violet color. Full-bodied and juicy, aromas of red ripe fruit, black and white
pepper and nutmeg. Well integrated oak barrique, round tannins and an elegant acidity
gives the wine a harmonious, long finish.

Matias Riccitelli Hey Malbec 2017 64.-
Great Malbec for little money. Red fruits with floral aromas and black Pepper, with soft
tannins that combine a sweet and pleasant finish. Enjoy the wine alone or with your favorite
meat.

El Equilibrista El Joven Malbec 2017/2018 58.-
This Argentine red wine Familia Cassone Obra Prima Reserva Malbec shows intense aromas
of ripe red fruits, such as cherries, plums and figs. By the maturation mokka, vanilla and
tobacco notes develop in the oak wine barrel. The Argentinian red wine Familia Cassone
has the intense fruit taste of intense fruit. Strong and long-lasting finish.


Marchiori Barraud Cuartel 5 CS 2013 112.-

An Argentine top red wine in honor of the wine-growing pioneers in the wine region Argen-
to which wines like this one owe their name. Full-bodied, extremely strong, spicy with
pronounced tannins and yet elegantly balanced! hand-picked mid to end of April of selected,
very old vines
Grape variety: Malbec, Cabernet Sauvingnon

Marchiori Barraud Hornero 2015 97.-

Dense ruby ??red in the nose fresh menthol, herbs and red fruits. On the palate soft entry
then shows a lot of character, great seasoned and fruity. A strong, powerful, lasting finish.
Grape variety: Malbec, Cabernet Sauvignon, Cabernet Franc

Eral Bravo YBS - Years Barrel Selection 2014/2015 90.-

For this top cuvée only the best bariques of a vintage are used. Each grape has its own
special characteristics: Malbec provides the intensive purple color, aroma of red fruits and
soft tannins during the Cabernet Sauvignon is responsible for structure, complexity, cassis
and eucalyptus. The Syrah for its typical spicy flavors. The YBS impresses with its large
volume and length on the palate and a very harmonious balance between fruit and wood
Grape variety: Malbec, Cabernet Sauvignon und Syrah Produktionsmenge: 5.000 Fl.

bodega Norton Lote Negro 2016 75.-

Intense ruby ??red, slightly earthy on the nose, fruity aromas of blackberries and raspberries.
berries, combined with complex spicy notes and mint, great on the palate Structure, vanilla
notes, intense fruit, prominent tannins, elegant character, long reverberation, storage potential.
Traubensorte: Malbec, Cabernet Franc

Familia Cassone Obra Prima Maximus 2014/2015 71.-

Maximus shows ruby ??red color paired with violet tones, aromas of Johannis and Blackberries
and mint. Its finish is velvety and long-lasting and is accompanied of eucalyptus and pepper
notes. A highly voluminous and elegant Argentine Red wine Familia Cassone Obra Prima
Maximus. This Cuvée is characterized by ist wonderful complexity.
Grape variety: 50% Malbec, 40% Cabernet Sauvignon, 10 Cabernet Franc

bodega Catalpa Cuvee 2013 64.-

Rich aromas of black currant, eucalyptus and black pepper as well as leather. Notes of ripe
cherries and figs, well integrated with soft oaks and smoky notes. In the mouth it is intense,
full-bodied and well-structured, with ripe Tannins and a long, complex finish.
Grape variety: 35% Cab. Franc, 35% Merlot, 15% Cab. Sauv., 15% Malbec


Familia Cassone Finca la florencia Torrontes 2017/2018 Preis 1dl 7.- Flache 49.-
Brilliant golden yellow. Fresh, tropical and floral note, also reminiscent of honey and
Roses, in the background lemons. The wine shows a rich abundance. Beautiful per-
sistent Finish.

BODEGA ATAMISQUE SERBAL VIOGNIer 2017/2018 Preis 1dl 7.50 Flache 51.-
Pale yellow color with green gloss. Intense aromas of tropical flowers and fresh fruits.
The palate has a wonderful balance between pleasant acidity and holding aromas.

BODEGA don martin chardonnay 2017/2018 Preis 1dl 7.50 Flache 51.-
Golden yellow with green reflections in the glass. Complex aromas of white flowers,
citrus fruits, pears, peaches and apricots. The palate shows the Don Martin
Chardonnay a balance between sweet fruit and refreshingend of acid. Aromatic, long
finish.

Cruzat Premier Extra Brut Preis 1dl 9.- Flache 63.-
A foamer for every occasion, in the aromatic profile leaning on images, light yeasty
notes and wild honey, with some Golden Delicious. Fine perlage, full, powerful palate,
fresh with tart acidity and pleasant Finish. Grape variety Pinot Noir Chardonnay

familia Schroeder Deseado Espumante Dulce Preis 1dl 9.- Flache 63.-
Lovely floral, on the nose elderflowers, lavender and aromatic scents of jasmine,
Passion fruit and rose petals. It is a delicate sparkling wine, sweet and fresh as a
Moscato.

Magnum
El Sensacional Malbec 2015 127.-
El Sensacional Malbec shows a dark ruby ??red. Aromas of dried berries, good
embedded woody notes and spicy herbs. This Malbec is full of character with sam-
tannin structure and medium-long finish.

Tinto de la Casa Malbec 2015 138.-
Tinto de La Casa. Without added yeast, Malbec grapes were made from 2 different
Mountains fermented together in oak barrels. Half of the grapes were taken with the
Stems thrown in the tub. The wine then stored 1 year in the same barrels.
Noteworthy Malbec

Matias Riccitelli Malbec Vineyard Selection 2014 156.-
Extremely dense and dark. Violet reflexes. explosive, cherries and ripe plums, vanilla
ille, cinnamon and cigar box. A palate-filling experience, strong tannins with one
Melt steak and put a smile on our lips that does not want to end.